This Instant Pot Quinoa Recipe is made with garbanzo beans, feta cheese, bell pepper, quinoa, chicken broth, and red wine vinegar.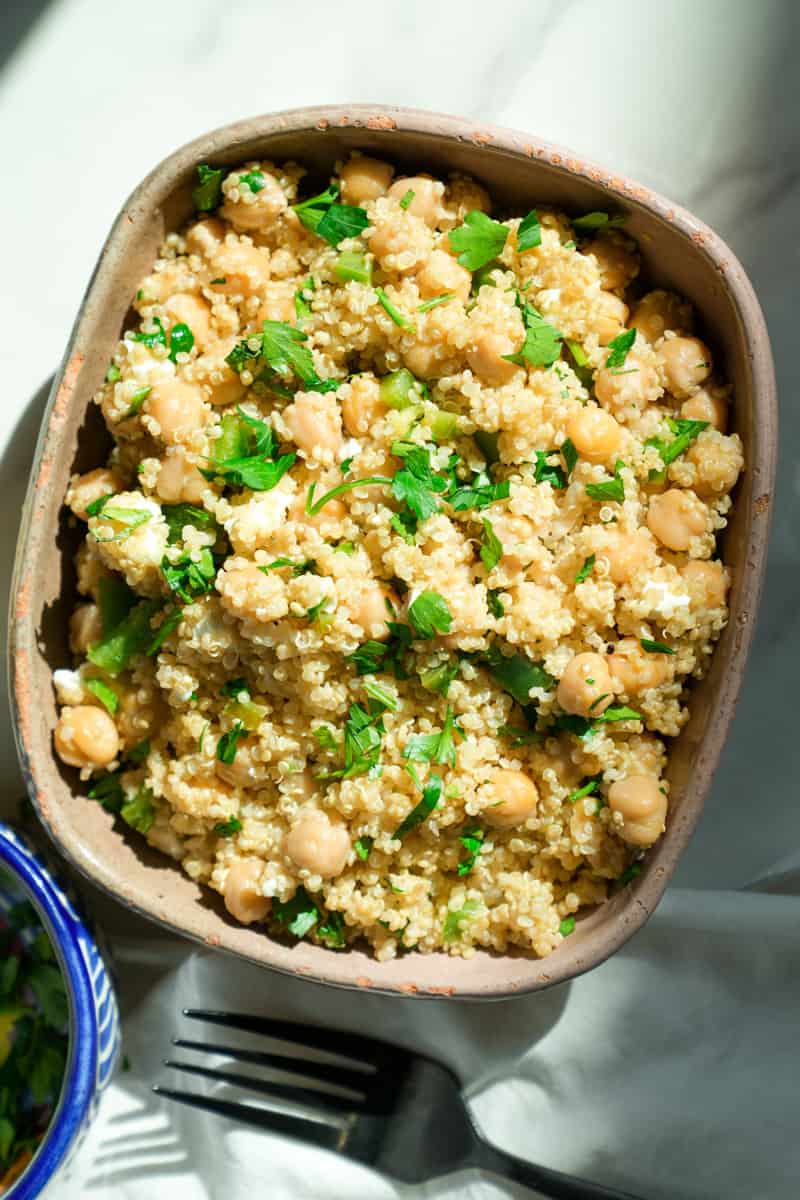 There is no better combination than quinoa, feta and garbanzos. It takes about 10 minutes to make which makes this dish even more perfect. Keeping this quinoa salad in the fridge is great especially when you need a light quick snack. I usually make 2 cups of this and keep it in the fridge until it is gone by the end of the week. Quinoa is rich in fiber, minerals, antioxidants and improves your blood sugar.
Quinoa is a complete protein, meaning it contains all nine essential amino acids. It is one of the most protein-rich plant foods. This dish is high in iron and magnesium. If you like the taste of it, you should make this weekly like me.
If you love this recipe, feel free to try my Mexican Quinoa Bowl or my Quinoa Banana Bread.
Jump to:
Why you will love this recipe
Versatile: Feel free to add a variety of fruits and vegetables into the mix. I have tried this with cucumbers, tomatoes, and even raisins.
Hearty: This dish is very hearty with the garbanzo beans and the quinoa mix.
Great for warm weather: I love making this in the summer days because it is fresh and light. It pairs very well with most main dishes.
Serves a crowd: It is easy to double this recipe in your instant pot so feel free to make as much as you want.
Instant Pot Quinoa Recipe Ingredients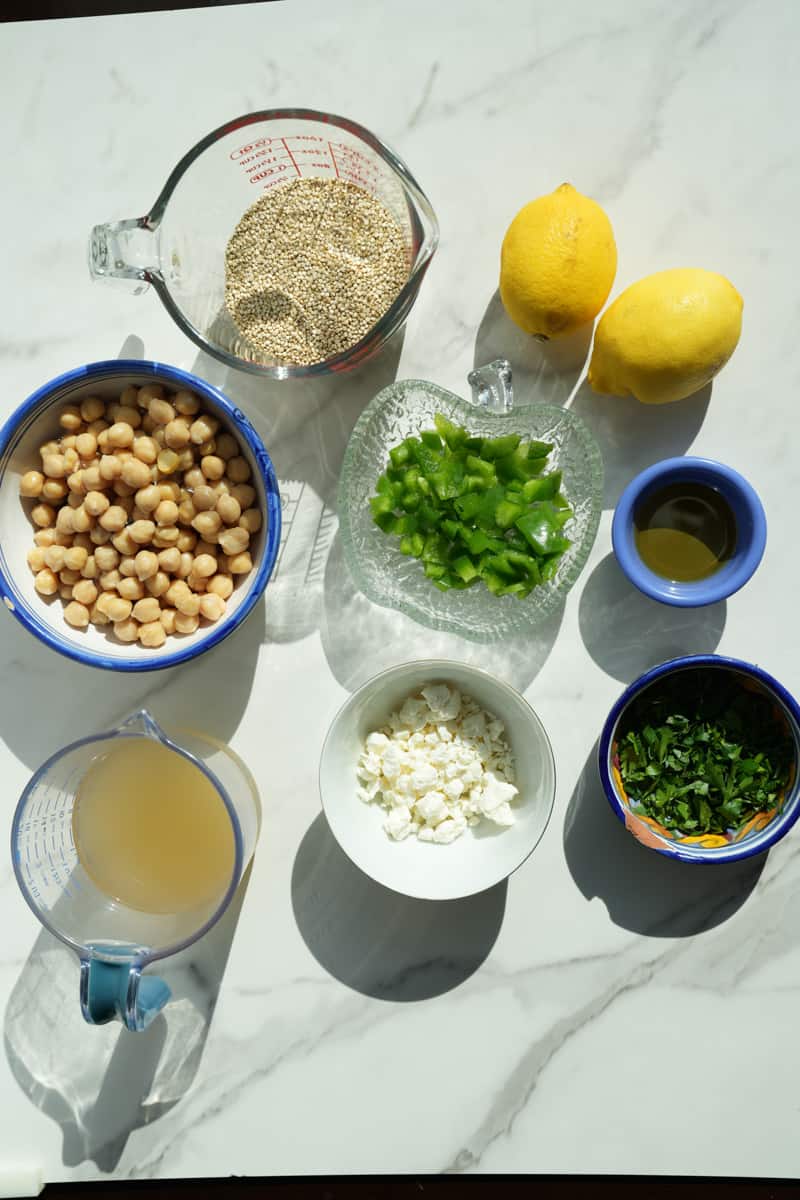 You'll only need a few simple ingredients to make this. The exact measurements are listed in the recipe card below. Here's an overview of what you'll need:
Garbanzo beans
Parsley
Feta
Bell pepper
Quinoa
Broth
Olive oil
Red wine vinegar
Lemon
See recipe card for Instant Pot Quinoa Recipe quantities.
How to make Instant Pot Quinoa
Start by adding the quinoa, chickpeas and the chicken broth in the instant pot.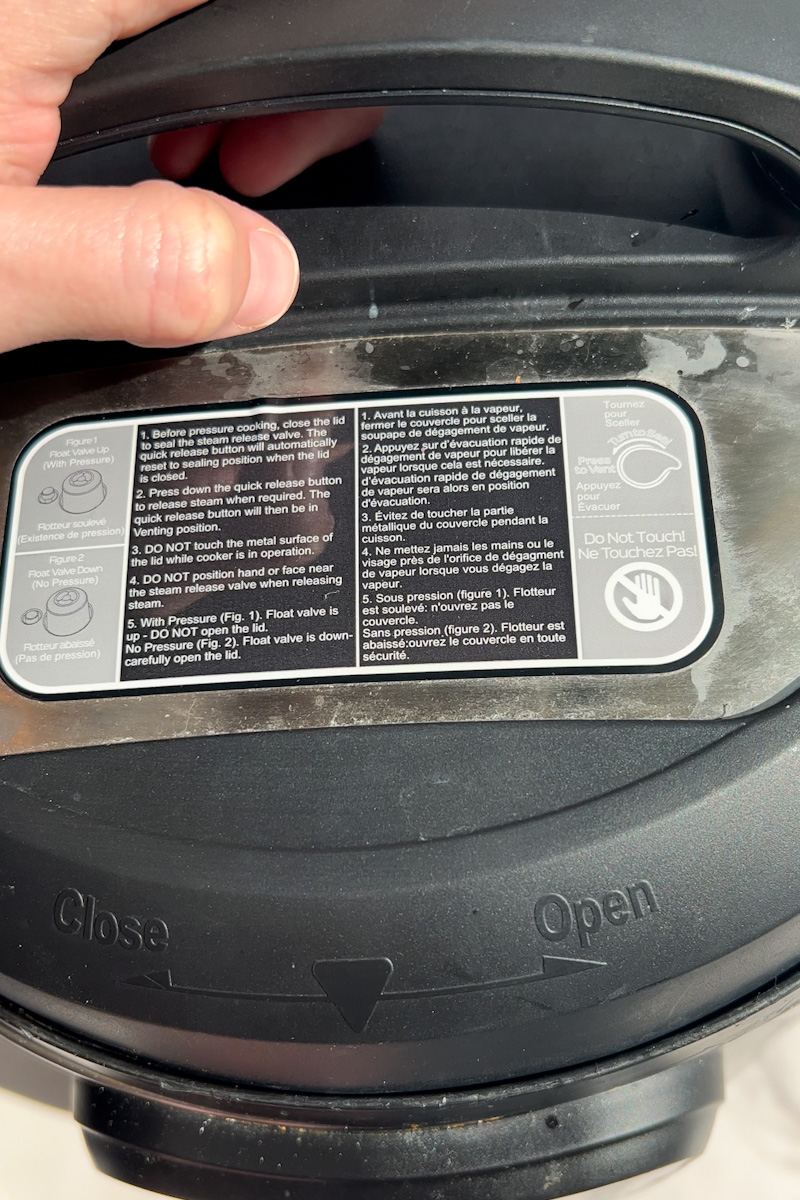 Pressure cook on high for 1 minute. Do not quick release – let the pot naturally release.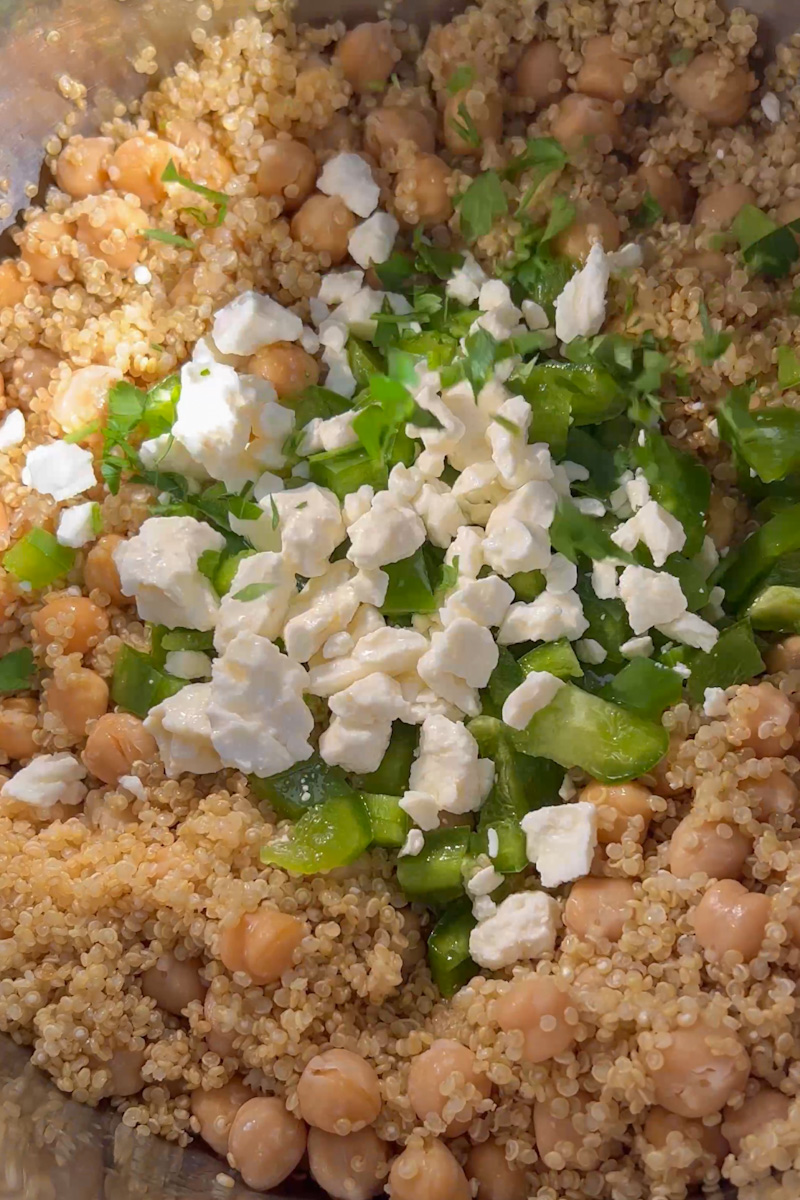 Meanwhile chop veggies and place the parsley, pepper and feta cheese in a large bowl. Make the dressing in a separate bowl.
When the quinoa is done, add the quinoa in the bowl with the veggies and pour the dressing in. Mix well.
What to serve with Instant Pot Quinoa
Roasted Vegetables: Serve your quinoa alongside a colorful assortment of roasted vegetables like carrots, broccoli, cauliflower, or Brussels sprouts. The combination of the nutty quinoa and the caramelized flavors of the roasted veggies makes for a delicious and nutritious meal. Check out my Instant Pot Steamed Artichokes.
Grilled Chicken or Fish: Cook up some juicy grilled chicken breasts or fish fillets to serve alongside your quinoa. Season the protein with your favorite herbs and spices for added flavor.
Stir-Fried Tofu or Tempeh: For a vegetarian or vegan option, stir-fry tofu or tempeh with your choice of vegetables and sauces. The protein-packed tofu or tempeh pairs well with quinoa, creating a balanced and satisfying meal.
Steamed or Roasted Salmon: Quinoa goes wonderfully with flaky and flavorful salmon. Steam or roast salmon fillets and serve them over a bed of quinoa, drizzling with a lemon butter sauce or topping with fresh herbs for a delightful combination. Check out my Spicy Baked Salmon.
Greek Salad: Create a refreshing Greek-inspired meal by serving quinoa alongside a crisp Greek salad. Combine chopped cucumbers, tomatoes, red onions, Kalamata olives, and feta cheese with a lemon-herb dressing. The bright flavors of the salad complement the nuttiness of the quinoa.
Substitutions
Garbanzo beans: This salad goes very well with garbanzo beans but feel free to choose any legume like lentils, cannellini beans or even black beans.
Parsley: Feel free to use parsley, green onion, or cilantro.
Feta: I love using feta cheese for this recipe, although you can use goat cheese as well.
Bell pepper: I love using diced bell pepper for this recipe. You can even use serrano pepper or jalapeno peppers if you prefer an extra spicy kick.
Quinoa: Quinoa is such a light grain and I love using it for this dish. You could also use rice instead. Cook the rice for the same amount of time.
Instant Pot Quinoa Recipe Variations
These are my favorite Instant Pot Quinoa Recipe variations:
Mediterranean Quinoa Salad: A refreshing and vibrant salad made with cooked quinoa, diced cucumber, cherry tomatoes, Kalamata olives, feta cheese, and a lemon-herb dressing.
Quinoa Stuffed Bell Peppers: Bell peppers filled with a mixture of cooked quinoa, sautéed vegetables like onions, carrots, and zucchini, along with spices and herbs, then baked until tender.
Quinoa and Black Bean Enchiladas: Tortillas filled with a combination of cooked quinoa, black beans, corn, diced tomatoes, and shredded cheese, then baked and served with salsa and sour cream.
Quinoa Stir-Fry: A nutritious stir-fry dish with cooked quinoa as the base, sautéed vegetables such as broccoli, bell peppers, and snap peas, along with soy sauce and ginger for added flavor.
Quinoa Breakfast Bowl: A wholesome breakfast option featuring cooked quinoa topped with fresh fruits like berries, sliced banana, and a drizzle of honey or maple syrup, along with a sprinkle of nuts or seeds for crunch.
Quinoa and Vegetable Curry: A flavorful curry made with a mix of cooked quinoa and a medley of vegetables like cauliflower, peas, and bell peppers, simmered in a fragrant curry sauce.
Check out these Caprese Skewers with Prosciutto.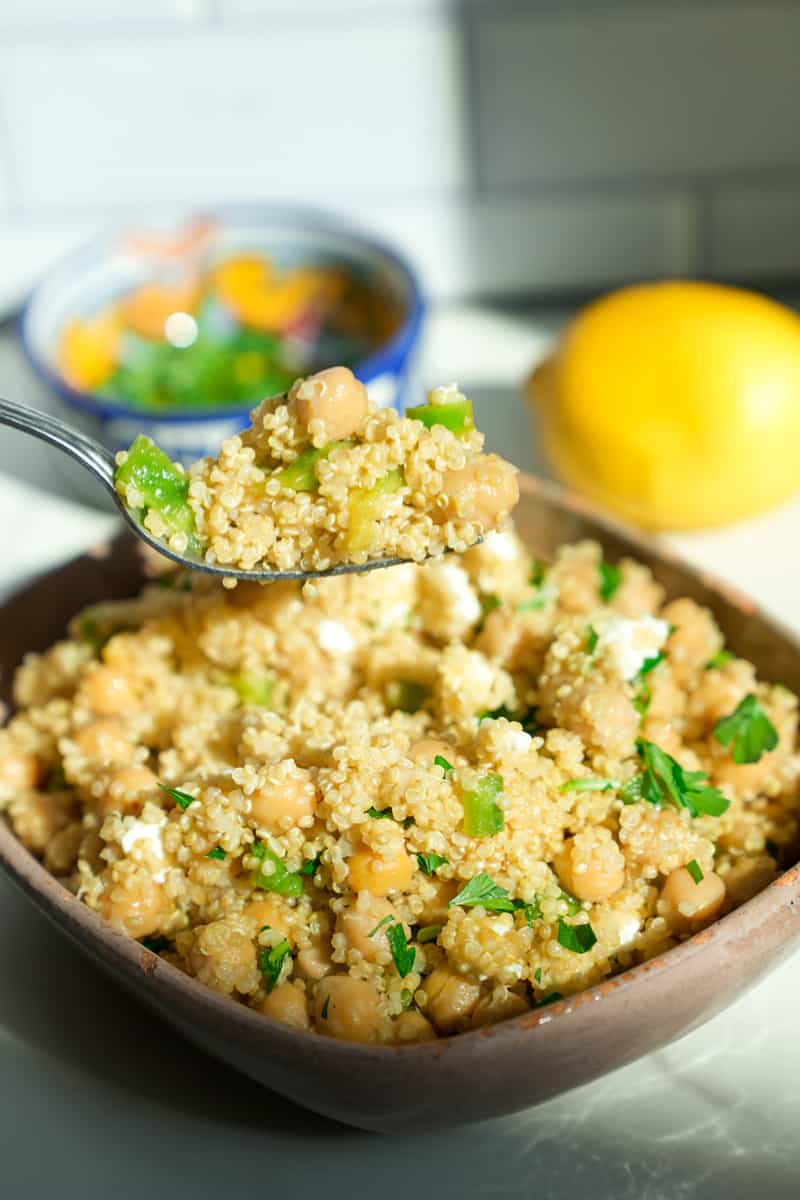 Equipment
Instant Pot: An Instant Pot is a popular brand of multi-cooker that combines the functions of a pressure cooker, slow cooker, rice cooker, and more. It is essential for cooking quinoa quickly and efficiently. Make sure you have the appropriate size Instant Pot for the amount of quinoa you plan to cook. I love using my Instant Pot for this recipe, but feel free to use any pressure cooker brand.
Measuring Cup: You'll need a measuring cup to measure the quinoa and the liquid accurately. The standard ratio for cooking quinoa is 1:2, which means 1 cup of quinoa requires 2 cups of liquid.
Fine-Mesh Strainer: Quinoa has a natural coating called saponin that can make it taste bitter or soapy. To remove this coating, it's recommended to rinse quinoa thoroughly under cold water before cooking. A fine-mesh strainer or colander is useful for this step.
Cooking Utensils: You'll need a spoon or spatula for stirring the quinoa and liquid together in the Instant Pot.
Optional Accessories: While not necessary, some people find additional accessories helpful for cooking quinoa in the Instant Pot. These may include a glass lid (for using the Instant Pot in a slow cooker mode), a trivet (to elevate the quinoa off the bottom of the pot), or a steamer basket (for cooking quinoa and vegetables simultaneously).
How to store Instant Pot Quinoa
Allow Quinoa to Cool: After cooking, let the Instant Pot quinoa cool down to room temperature before storing. This helps prevent condensation and moisture buildup in the storage container.
Transfer to an Airtight Container: Transfer the cooled quinoa to an airtight container. A glass or plastic container with a tight-fitting lid works well. Make sure the container is clean and dry before adding the quinoa.
Refrigerate or Freeze: Depending on how soon you plan to use the quinoa, you can choose to refrigerate or freeze it.

Refrigeration: If you intend to use the quinoa within a few days, store it in the refrigerator. Properly stored, cooked quinoa can stay fresh for up to 5 days in the refrigerator. Keep in mind that the texture of refrigerated quinoa may become slightly firmer.
Freezing: To store quinoa for a longer period, consider freezing it. Place the airtight container with the quinoa in the freezer. Make sure to label the container with the date for easy reference. Frozen quinoa can remain good for up to 2-3 months.

Thaw and Reheat: When ready to use the stored quinoa, thaw it in the refrigerator overnight if frozen. Once thawed, you can reheat the quinoa in the microwave or on the stovetop. Add a splash of water or broth and heat gently until warmed through. Alternatively, you can incorporate the chilled quinoa directly into cold salads or dishes that don't require reheating.
Instant Pot Quinoa Recipe Top tips
Rinse the Quinoa: Before cooking the quinoa in the Instant Pot, it's recommended to rinse it thoroughly under cold water using a fine-mesh strainer. This helps remove any bitter or soapy taste caused by the natural coating called saponin.
Use Proper Quinoa-to-Liquid Ratio: The standard ratio for cooking quinoa in the Instant Pot is 1:2, which means 1 cup of quinoa requires 2 cups of liquid. Follow this ratio for optimal results. Adjust the quantity accordingly based on your desired serving size.
Add Flavor to the Liquid: To enhance the taste of the quinoa, consider using broth instead of plain water as the cooking liquid. Vegetable, chicken, or beef broth can infuse the quinoa with additional flavor.
Avoid Overcooking: Quinoa cooks quickly in the Instant Pot, so it's important not to overcook it. Set the cooking time according to the instructions or recipe you are using. Generally, cooking quinoa on high pressure for 1 minute, followed by a natural release for 10 minutes, works well. Overcooking can result in mushy quinoa.
Fluff the Quinoa: Once the cooking is complete and the pressure has naturally released, open the Instant Pot and fluff the quinoa with a fork. Gently separate the grains to avoid clumping and achieve a light, fluffy texture.
Let it Rest: After fluffing the quinoa, let it rest for a few minutes in the Instant Pot. This allows any remaining moisture to be absorbed and helps the quinoa achieve a more consistent texture.
Customize with Seasonings: Instant Pot quinoa serves as a versatile base for various dishes. After cooking, you can customize the quinoa by adding your preferred seasonings, such as herbs, spices, or a squeeze of citrus juice, to enhance the flavor according to your taste.
Serve Immediately or Store Properly: For the best taste and texture, serve the Instant Pot quinoa immediately. However, if you have leftovers, follow the proper storage guidelines mentioned earlier to refrigerate or freeze the quinoa for later use.
Print
Instant Pot Quinoa Recipe
---
Author:

Total Time:

20 minutes

Yield:

4

servings

1

x
Description
This Instant Pot Quinoa Recipe is made with garbanzo beans, feta cheese, bell pepper, quinoa, chicken broth, and red wine vinegar. 
---
1

can garbanzo beans, drained

2 tablespoons

chopped fresh parsley

¼ cup

feta cheese, crumbled

1

bell pepper, diced

1 cup

quinoa

1 cup

chicken broth
Dressing

3 tablespoons

olive oil

¼ cup

red wine vinegar
Juice of

2

lemons
---
Instructions
Start by adding the quinoa and the chicken broth in the instant pot and pressure cook on high for 1 minute. Do not quick release – let the pot naturally release.
Meanwhile chop veggies and place the garbanzo beans, parsley, pepper and feta cheese in a large bowl.  Make the dressing in a separate bowl.
When the quinoa is done, add the quinoa in the bowl with the veggies and pour the dressing in. Mix well.
Prep Time:

5 minutes

Cook Time:

15 minutes

Category:

Sides

Method:

Pressure Cooker

Cuisine:

American
Nutrition
Serving Size:

1

Calories:

236.9

Sugar:

4.1 g

Sodium:

694.2 mg

Fat:

9.1 g

Saturated Fat:

1.0 g

Carbohydrates:

31.9 g

Fiber:

5.1 g

Protein:

6.2 g

Cholesterol:

0.0 mg
Food safety
Cook to a minimum temperature of 165 °F (74 °C)
Do not use the same utensils on cooked food, that previously touched raw meat
Wash hands after touching raw meat
Don't leave food sitting out at room temperature for extended periods
Never leave cooking food unattended
Use oils with high smoking point to avoid harmful compounds
Always have good ventilation when using a gas stove