This Keto Cookies are made with tahini, eggs, nuts and sugar-free chocolate, erythritol, baking powder and liquid stevia.
I just began my keto diet about a week ago. It is finally happening! I only plan to do it for about a month, mostly for the recipes, but also to tone up. The ketogenic diet is a high-fat, protein, and low carbohydrate. The body burns fats faster than carbohydrates and still gives you the energy you need.
Who says you can't indulge if you are on a ketogenic diet? This Keto Tahini Chocolate Chip Nut cookie bar is so delicious, sugar-free, and low carb. You can store these in your fridge in a sealed container for a week, or freeze for 3 months.
If you love this recipe, feel free to try my Rice Krispie Chocolate Squares or my Ice Cream Sandwiches Recipe.
Jump to:
What are Keto Cookies?
Keto cookies are cookies that are specifically designed to be low in carbohydrates and high in healthy fats, making them suitable for a ketogenic diet. The ketogenic diet is a low-carbohydrate, high-fat diet that aims to shift the body into a state of ketosis, where it primarily burns fat for fuel instead of carbohydrates.
Keto cookies are typically made with alternative ingredients that are low in carbs and sugar, such as almond flour, coconut flour, or flaxseed meal. These ingredients provide a similar texture to traditional cookies while keeping the carbohydrate content low. Keto-friendly sweeteners like stevia, erythritol, or monk fruit extract are used instead of regular sugar.
Healthy fats like butter, coconut oil, or nut butter are often incorporated into keto cookie recipes to provide richness and flavor. Other common ingredients include eggs, vanilla extract, baking powder, and a pinch of salt.
Why you will love this recipe
Low in Carbohydrates: Keto cookies are specifically formulated to be low in carbohydrates, typically using alternative flours and sweeteners that have a minimal impact on blood sugar levels. This is ideal for individuals following a ketogenic diet, which aims to keep carbohydrate intake low to promote ketosis and fat burning.
High in Healthy Fats: Keto cookies are often made with ingredients rich in healthy fats, such as almond flour, coconut oil, or nut butter. These fats provide satiety, help keep you full for longer, and contribute to the overall macronutrient balance of a keto diet.
Satisfying and Indulgent: Despite being low in carbohydrates, keto cookies can still offer a satisfying and indulgent treat. They come in various flavors and textures, ranging from soft and chewy to crunchy and crumbly. Whether you crave chocolate chip, peanut butter, or cinnamon cookies, there is a keto-friendly version to satisfy your taste buds.
Keto Cookies Recipe Ingredients
You'll only need a few simple ingredients to make this. The exact measurements are listed in the recipe card below. Here's an overview of what you'll need:
Tahini
Eggs
Nuts
Erythritol
Baking powder
Liquid stevia
See recipe card for quantities.
How to make Keto Cookies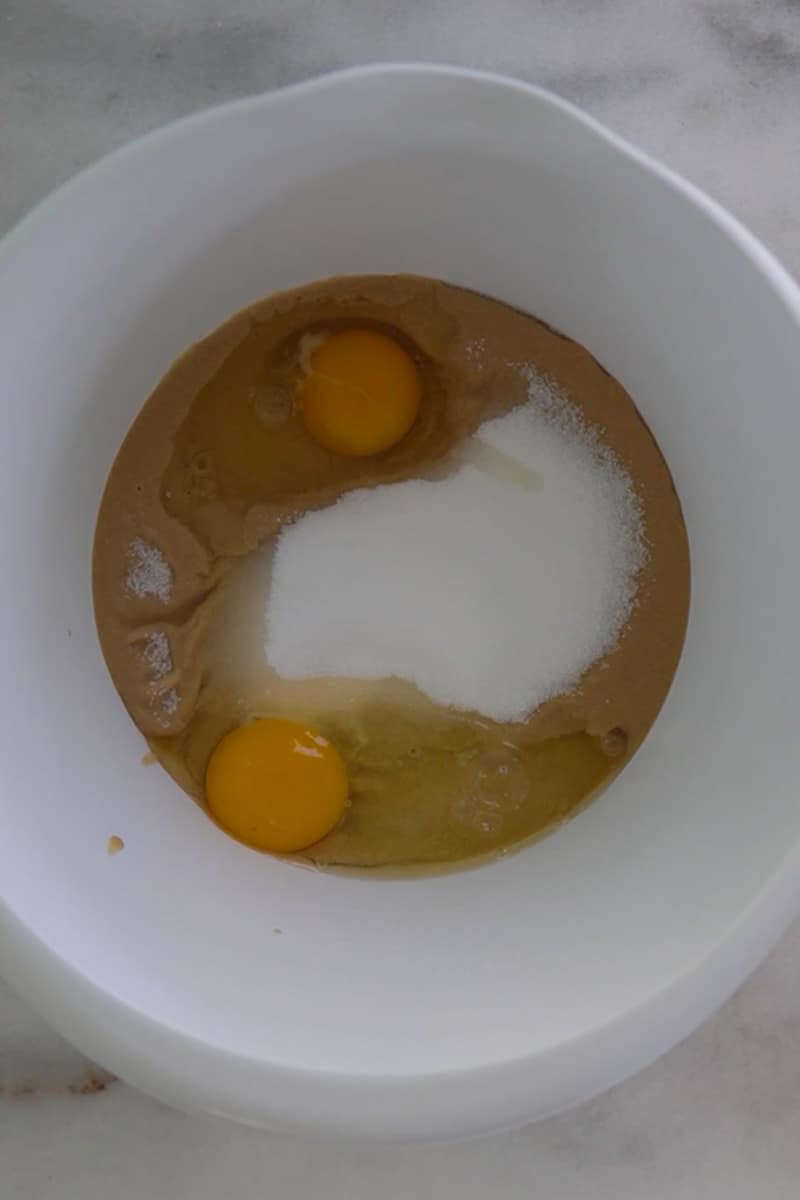 Preheat the oven to 375°F. Grease an 8-inch square baking pan. Put all the ingredients in a mixing bowl.
Using a wooden spoon, stir all the contents. Spread the mixture onto the 8-inch square baking pan.
Bake for 15 minutes, until brown and you can poke a fork in the middle and it comes out clean. Watch closely and be careful not to overbake.
Allow to cool completely in the pan before cutting into squares. They will firm up the cooler they are.
What to serve with Keto Cookies
Unsweetened Nut Milk: Enjoy your keto cookies with a glass of unsweetened almond milk, coconut milk, or macadamia nut milk. These dairy-free options complement the flavors of the cookies and provide a creamy and refreshing beverage.
Sugar-Free Whipped Cream: Top your keto cookies with a dollop of homemade or store-bought sugar-free whipped cream. It adds a touch of indulgence and creaminess to the cookies.
Berries: Fresh or frozen berries, such as strawberries, blueberries, raspberries, or blackberries, make a great accompaniment to keto cookies. They add a burst of natural sweetness and provide a contrast in texture.
Keto-friendly Ice Cream: Pair your keto cookies with a scoop of homemade or store-bought keto-friendly ice cream. Look for options sweetened with low-carb sweeteners like stevia or erythritol. Popular flavors like vanilla, chocolate, or mint chip work well with most cookie varieties.
Coffee or Tea: Enjoy your keto cookies with a cup of black coffee or herbal tea. The flavors of coffee or tea can complement the taste of the cookies and create a cozy and satisfying combination.
Substitutions
Tahini: Similar to tahini, almond butter is a creamy and nutty spread made from almonds. It can provide a rich flavor and texture to your keto cookies. Another popular option, peanut butter offers a slightly sweeter and more pronounced flavor compared to tahini. Make sure to choose a natural peanut butter without added sugars.
Eggs: A mixture of ground flaxseeds and water creates a gel-like consistency that can replace eggs in baking. This vegan-friendly option adds moisture and helps bind the ingredients together. Similar to flaxseed meal, chia seeds mixed with water form a gel-like substance that works well as an egg substitute. They provide nutritional benefits and add a slight crunch to your cookies.
Nuts: Sunflower seeds can provide a similar texture and nutty flavor to keto cookies. Use them as a replacement for chopped nuts or incorporate them into the dough. With a mild and slightly sweet flavor, pumpkin seeds offer a unique twist to your keto cookies. They can be used as a substitute or combined with other nuts. If you're looking for a buttery and rich flavor, macadamia nuts can be an excellent substitute. Chop them into smaller pieces to incorporate into the cookie dough.
Erythritol: Derived from monk fruit, this sweetener is low in calories and has no effect on blood sugar levels. It can be used as a 1:1 replacement for erythritol in your keto cookie recipes. A highly concentrated sweetener derived from the stevia plant, stevia extract is very sweet and only a small amount is needed. It is a popular choice for low-carb and keto-friendly baking.
Liquid Stevia: Stevia Powder or Granulated Stevia: If you have powdered or granulated stevia, you can use it as a substitute for liquid stevia.
Keto Cookies Recipe Variations
Keto Chocolate Chip Cookies: Use sugar-free chocolate chips or chop up a keto-friendly dark chocolate bar to add bursts of chocolatey goodness to your cookies. You can also add some chopped nuts like walnuts or pecans for extra texture.
Keto Peanut Butter Cookies: Replace some or all of the nut butter in the recipe with creamy peanut butter. You can also press a sugar-free chocolate chip into the center of each cookie before baking to create a classic peanut butter and chocolate combo.
Keto Snickerdoodle Cookies: Roll your cookie dough in a mixture of cinnamon and sweetener before baking to give them that signature snickerdoodle flavor. They'll have a delightful combination of cinnamon and sweetness.
Keto Lemon Cookies: Add the zest of a lemon and a splash of lemon juice to your cookie dough for a refreshing citrus twist. You can also consider adding poppy seeds for added texture and visual appeal.
Keto Double Chocolate Cookies: Incorporate unsweetened cocoa powder into your cookie dough along with sugar-free chocolate chips for an extra decadent and chocolatey experience. These cookies are perfect for all the chocolate lovers out there.
Keto Almond Joy Cookies: Combine chopped almonds, unsweetened shredded coconut, and sugar-free chocolate chips in your cookie dough to replicate the flavors of the popular Almond Joy candy bar. These cookies will satisfy your coconut and chocolate cravings.
Check out my simple Cookie Butter Puppy Chow Recipe.
Equipment
Mixing Bowls: Use mixing bowls of various sizes to mix your ingredients. It's good to have a few bowls on hand for separating dry and wet ingredients or combining different mix-ins.
Measuring Cups and Spoons: Accurate measurement is crucial for baking. Have a set of measuring cups (1 cup, ½ cup, ⅓ cup, ¼ cup) and measuring spoons (1 tablespoon, 1 teaspoon, ½ teaspoon, ¼ teaspoon) to measure your ingredients precisely.
Electric Mixer or Whisk: An electric mixer (stand mixer or handheld mixer) makes mixing the dough easier and faster. If you don't have an electric mixer, a whisk will suffice for combining the ingredients by hand.
Spatula or Wooden Spoon: Use a spatula or wooden spoon to mix the ingredients and scrape down the sides of the bowl while making the dough. It helps to incorporate the ingredients evenly.
Baking Sheet or Cookie Sheet: A baking sheet or cookie sheet provides a flat surface to place your cookie dough. Look for a sheet with a non-stick coating or use parchment paper to prevent sticking.
Cooling Rack: After baking the cookies, transfer them to a cooling rack to cool completely. This allows air to circulate around the cookies, preventing them from becoming soggy.
Baking Mat or Parchment Paper: Line your baking sheet with a silicone baking mat or parchment paper to prevent the cookies from sticking and make cleanup easier.
Oven: Preheat your oven to the specified temperature mentioned in the recipe. Make sure your oven is in good working condition and calibrated accurately for even baking.
Cookie Cutters (for shaped cookies, if desired): If you're making shaped cookies, have a selection of cookie cutters in different shapes and sizes.
How to store Keto Cookies
Allow the Cookies to Cool: Before storing, ensure that the keto cookies have completely cooled down. This helps prevent moisture buildup and maintains their texture.
Choose an Airtight Container: Place the cookies in an airtight container to protect them from exposure to air and moisture. A resealable plastic container, airtight glass jar, or a cookie tin can work well.
Layer with Parchment Paper: If you're stacking multiple layers of cookies in the container, place a sheet of parchment paper between each layer. This prevents them from sticking together.
Store in a Cool, Dry Place: Find a cool and dry location in your kitchen or pantry to store the container of cookies. Avoid areas with high humidity or direct sunlight, as they can affect the texture and taste of the cookies.
Freeze for Long-Term Storage: If you don't plan to consume all the cookies within a few days, consider freezing them for long-term storage. Place the cookies in a freezer-safe container or zip-top bag, and label them with the date. They can typically be stored in the freezer for up to 3 months.
Thawing Frozen Cookies: When you're ready to enjoy the frozen keto cookies, remove them from the freezer and let them thaw at room temperature for about 15-20 minutes. Alternatively, you can warm them briefly in a preheated oven at a low temperature for a few minutes.
Separate Fragile Cookies: If you have delicate or crumbly cookies, store them separately to prevent breakage. Place them in individual small containers or wrap them in wax paper or plastic wrap before placing them in the larger storage container.
Consider Using Desiccant Packs: To absorb any excess moisture and maintain the crispness of the cookies, you can add desiccant packs or a small amount of uncooked rice to the storage container. Make sure they are food-grade and do not come into direct contact with the cookies.
Keto Cookies Recipe Top tips
Use High-Quality Ingredients: Opt for high-quality ingredients, such as almond flour, coconut flour, erythritol or stevia as a sweetener, and grass-fed butter or coconut oil. Using quality ingredients can significantly impact the taste and texture of your cookies.
Measure Ingredients Accurately: Precise measurement is crucial in baking, especially when working with low-carb and gluten-free ingredients. Use measuring cups and spoons to ensure you're using the correct amounts of each ingredient.
Don't Overmix the Dough: When combining the ingredients, mix just until everything is well incorporated. Overmixing can result in dense and tough cookies. Once the ingredients are combined, stop mixing.
Chill the Dough: Many keto cookie doughs benefit from chilling before baking. This allows the fats to solidify and helps prevent the cookies from spreading too much during baking. Wrap the dough in plastic wrap and refrigerate for at least 30 minutes, or as directed in the recipe.
Use Parchment Paper or Silicone Baking Mat: Line your baking sheet with parchment paper or a silicone baking mat. This helps prevent sticking and makes it easier to transfer the cookies to a cooling rack.
Flatten the Dough: Some keto cookie doughs don't spread as much during baking. To achieve the desired shape and thickness, lightly flatten the dough balls with the palm of your hand or the bottom of a glass before placing them on the baking sheet.
Monitor Baking Time Closely: Since keto cookies often contain different ingredients than traditional cookies, the baking time may vary. Keep a close eye on the cookies as they bake and follow the recommended baking time in the recipe. Over-baking can result in dry cookies.
Let the Cookies Cool Completely: Allow the cookies to cool on the baking sheet for a few minutes before transferring them to a wire rack to cool completely. They will firm up as they cool, so don't rush this step.
Experiment with Flavors and Mix-Ins: Don't be afraid to get creative with flavors and mix-ins. Add unsweetened cocoa powder, sugar-free chocolate chips, chopped nuts, shredded coconut, or extracts like vanilla or almond to customize your keto cookies.
Adjust Sweetness to Taste: Different people have different preferences for sweetness. Taste the cookie dough before baking and adjust the amount of sweetener accordingly. You can gradually add more sweetener if desired.
Store Properly: Once cooled, store your keto cookies in an airtight container or freeze them for longer shelf life, as mentioned earlier. Proper storage helps maintain their freshness and texture.
Print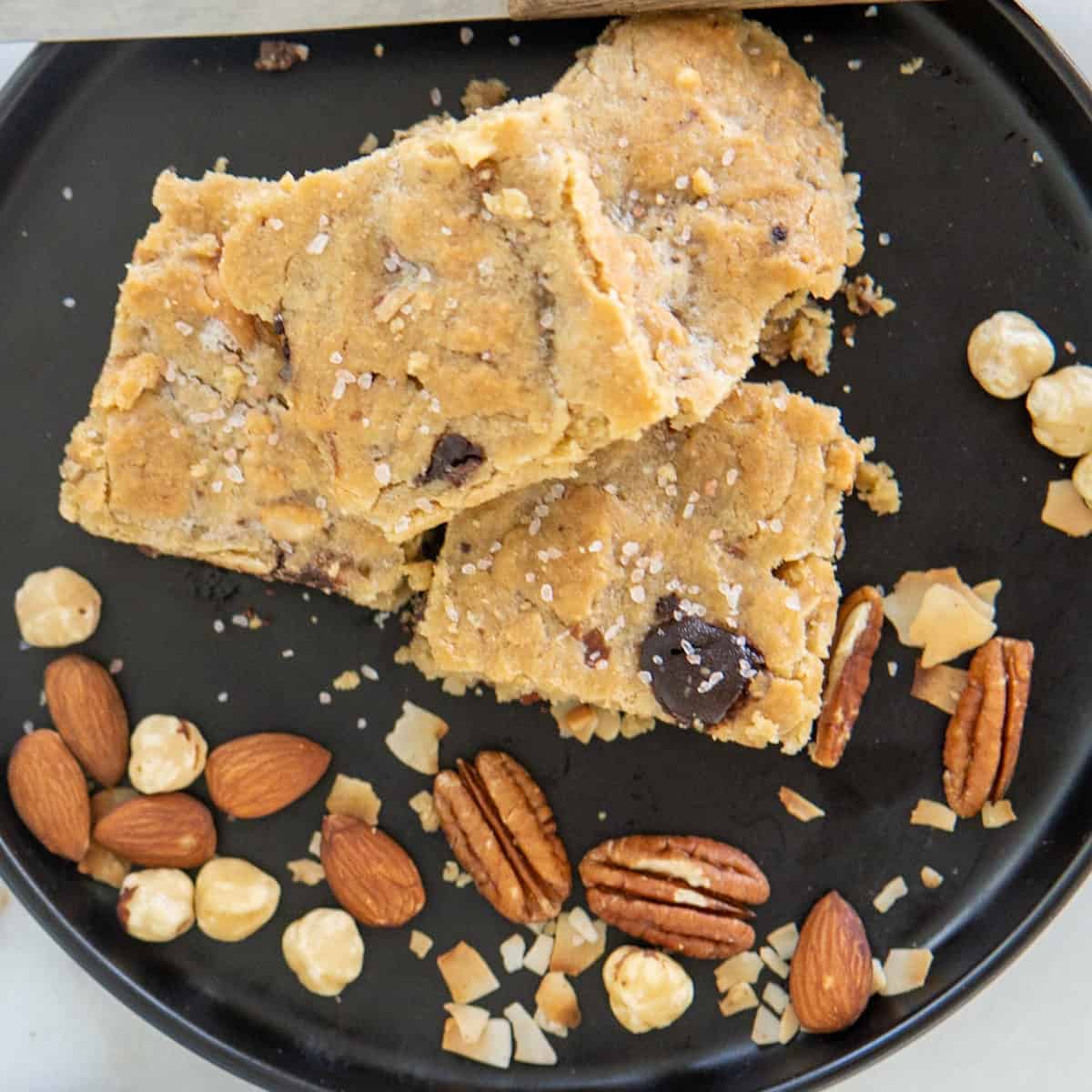 Keto Cookies Recipe
---
Author:

Total Time:

25 minutes

Yield:

4

servings

1

x
Description
This Keto Cookies Recipe are made with tahini, eggs, nuts and sugar-free chocolate, erythritol, baking powder and liquid stevia.
---
1 cup

natural well-stirred tahini

2

large eggs

½ cup

mixed nuts and sugar free chocolate (crushed)

¾ cup

granular erythritol

1 teaspoon

baking powder

1 teaspoon

liquid stevia
---
Instructions
Preheat your oven to 350°F (175°C) and line a baking sheet with parchment paper.

In a mixing bowl, combine the tahini, eggs, erythritol, baking powder, and liquid stevia. Mix well until the ingredients are thoroughly combined.

Add the crushed mixed nuts and sugar-free chocolate to the dough. Stir until they are evenly distributed throughout the dough.

Place spoonfuls of the dough onto the prepared baking sheet, leaving some space between each cookie as they will spread slightly. Alternatively, you can spread the mixture onto the 8-inch square baking pan.

Gently flatten each cookie with the back of a spoon or your hand to your desired thickness. 

Bake in the preheated oven for about 12-15 minutes, or until the edges are golden brown and the cookies are set.

Remove the baking sheet from the oven and let the cookies cool on the sheet for a few minutes. Then transfer them to a wire rack to cool completely.

Once cooled, the keto cookies are ready to enjoy! Store them in an airtight container at room temperature for up to 5 days, or freeze them for longer storage.
Prep Time:

10 minutes

Cook Time:

15 minutes

Category:

Dessert

Method:

Baking

Cuisine:

American
Nutrition
Serving Size:

1

Calories:

146

Fat:

12.3 g

Carbohydrates:

7.1 g

Fiber:

2.8 g

Protein:

6.3 g
Food safety
Cook to a minimum temperature of 165 °F (74 °C)
Do not use the same utensils on cooked food, that previously touched raw meat
Wash hands after touching raw meat
Don't leave food sitting out at room temperature for extended periods
Never leave cooking food unattended
Use oils with high smoking point to avoid harmful compounds
Always have good ventilation when using a gas stove