This Cast Iron Carne Asada is made with Ranchera Meat, olive oil, soy sauce, apple cider vinegar, jalapeños, onion, and limes.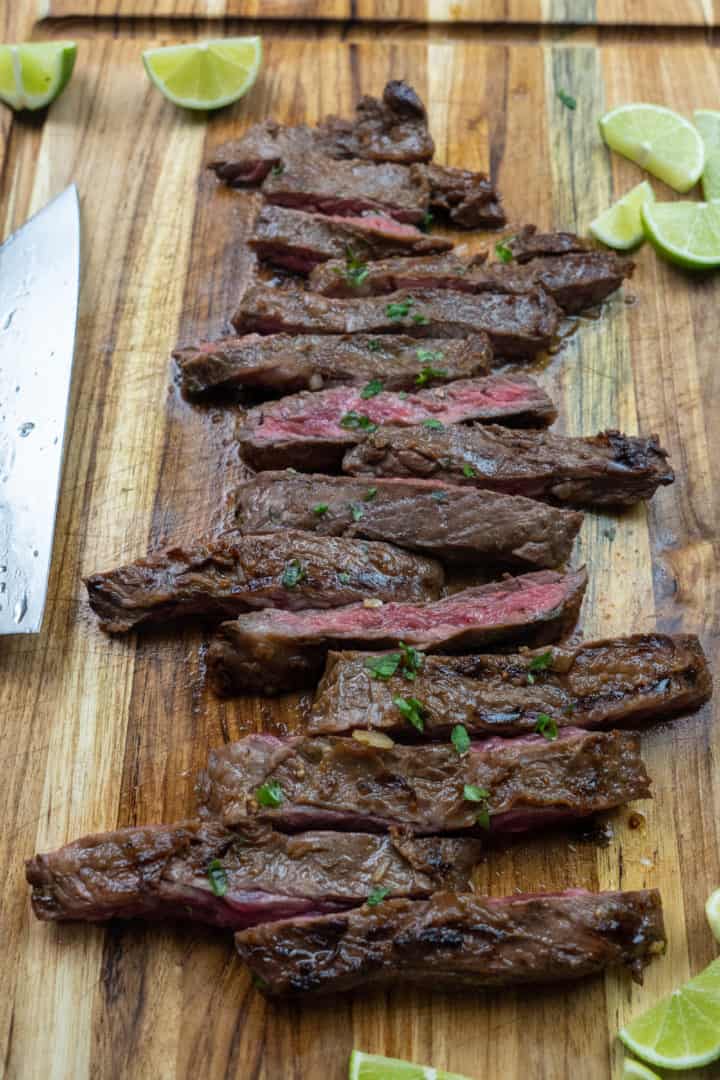 This skirt steak is going to be made best in a cast iron skillet or a grill. I prefer to pan sear as it cooks in its own juice and I prefer the taste. This carne asada is so tender and full of flavor. It is so important to let the steak marinate in this delicious juice.
It is best to use the best quality skirt steak for this recipe. You need to cook this steak right or else it could come out chewy, so pay attention! When you heat up your cast iron skillet, it is best to wait a while until it heats up before adding the steak.
Skirt steak gets juicy and tender in a marinade of lime juice and soy sauce, for a meal that can be prepped ahead of time! It's no wonder, when they are super easy to make and perfect for a quick throw-together meal! The trick to making the perfect skirt steak is in the length of marinating. If you remember to do it the night before, you will get the best outcome for this steak. You can always top this on a tortilla, tostada, or serve on a bed of rice.
When to slice Ranchera Meat
When cooking steak, you want to measure the temperature before you cut it. For rare it is 125°F. If you prefer medium-rare it is 135°F. For medium it is 145°F. For medium-well it is 150°F and well done is 160°F (highly suggest you don't go to well done). Always let your beef rest after cooking and seal it well. I like waiting 5 to 10 minutes before slicing. When you do slice, cut against the grain, which are the little lines running through the beef, so you will cut in the opposite direction.
Check out my Milanesa and Roasted Leg of Lamb on my website too.
What wine should I pair this with?
I would definitely pair this wine with a Malbec or a Tempranillo. This is a dark fruited wine that works well with the char of the steak.
Skirt steak usually comes in a long strip. Cut the steak into 2-3 pieces to allow them to fit better in the pan.
You can now try my recipe online and order the groceries through Jupiter, the ingredients populate on its own and requires no work from you. Click here to make this recipe!
Jump to:
Ingredients
Skirt Steak
Olive Oil
Soy Sauce
Apple Cider Vinegar
Jalapeno
Orange
Garlic
Cumin
Onion Powder
Oregano
Cilantro
See recipe card for quantities.
Instructions
Add the olive oil, soy sauce, apple cider vinegar, jalapeno, red onion, lime
juice, orange juice, garlic, cumin, onion powder, oregano, cilantro and salt
and pepper in a mixing bowl and stir well. Add the skirt steak and mix with
your hand. Refrigerate and marinate for 2-4 hours. The longer the better – you
can even do overnight! Alternatively, you can use a large Ziplock bag.
Before searing the steak, dry it with paper towel – keep the marinade. Heat
a large cast iron over high heat for 3 minutes. Once hot, add a bit of pan or
olive oil. Add the steak and press down firmly on the surface. Sear for 2
minutes on each side. Reduce heat and add ½ cup of the marinade and cook for
2-4 minutes longer. You want an internal temperature of 130 F. Work in two
batches if needed.
Transfer the steak to a cutting board and let it rest for 10 minutes before
slicing.
Slice them into ½ inch slices. Transfer to a serving plate.
Hint: Make sure to let the steak rest before slicing.
Substitutions
Olive oil: Try canola oil, vegetable oil or sunflower oil work as a 1 for 1 substitute. 
Soy Sauce: Instead of soy sauce you can use Tamari, Worcestershire sauce, Miso, Maggi seasoning, Salt, Coconut aminos, or Liquid aminos.
Apple Cider Vinegar: Feel free to use red wine vinegar, white wine vinegar or sherry vinegar.
Jalapeno: I have used serrano peppers in place of jalapeños for this recipe.
Onion: I used red onion but feel free to use yellow or white onion instead.
Lime: I love using lime juice for this although lemon juice will work as well.
Orange: The orange juice gives the steak a sweet and tart flavor in the marinade.
Garlic: For best quality, use fresh garlic instead of garlic from a jar.
Cumin: Cumin has a very powerful taste, so feel free to use as much or little as you like. If you like a little spice, try chili powder or red pepper flakes.
Onion powder: I love using onion and garlic powder combined, and feel free to use one or the other... or both!
Oregano: If you can find Mexican oregano, definitely use that! You can use normal oregano as well.
Cilantro: You can never go wrong with a little cilantro. Feel free to use parsley instead too.
Variations
Cooking is a great way to get creative! Feel free to modify to your liking.
Spicy - add chili pepper flakes while cooking to imbue heat into the marinade.
Deluxe - add chimichurri on top if you wish.
Kid friendly - Serve with french fries on top!
Check out my ground beef stroganoff on my website too.
Equipment
Equipment can have a big impact on how a recipe turns out. Stone bakeware takes longer to heat up than metal pans, and also retain heat for longer, which could make the recipe more watery, or burnt on the outsides.
I love using my Caraway pots, pans and baking sheets for best quality. Get yourself a discount by clicking here!
Storage
This steak will be good in the refrigerator for 2-3 days or in the freezer for 2 months.
Top tip
Feel free to modify this recipe to however YOU will like it. Check out the substitutions to see how you can achieve that.
Food safety
Cook to a minimum temperature of 165 °F (74 °C)
Do not use the same utensils on cooked food, that previously touched raw meat
Wash hands after touching raw meat
Don't leave food sitting out at room temperature for extended periods
Never leave cooking food unattended
Use oils with high smoking point to avoid harmful compounds
Always have good ventilation when using a gas stove