This is a Baked Brie Recipe that requires only three ingredients: brie, honey or fig jam and your choice of nuts. The nuts add the crunch that this brie deserves. This is such a simple appetizer and will be ready in about 10 minutes. It is the perfect dish to have when your friends or family come over.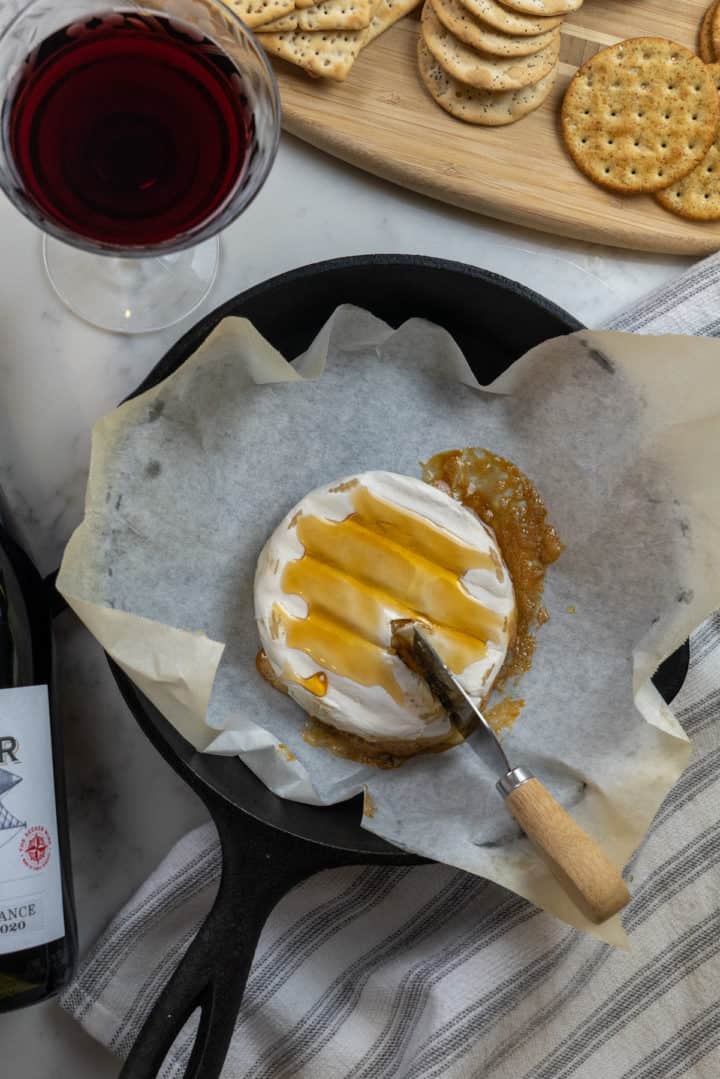 This Baked Brie with Honey and Pistachios is always a crowd pleaser! It is SO creamy, rich and the honey mixed in with the pistachios make is so much better. You could use walnuts instead of pistachios, or any kind of nut for that matter. I bought the honey roasted pistachios so it would complement the rest of the dish. Any nut and roast for that matter will go well with this appetizer. It is also perfect for snacking!
You don't have to take the rind off of the brie to make this. If you leave the rind on, the brie will ooze out of the sides and you can take that ooze and spread it on a cracker. It is spectacular!
Check out my Caprese Crostini and my Proscuitto and Ricotta Toast.
Jump to:
What is Baked Brie?

Baked Brie is a delightful appetizer or snack that features a wheel or wedge of Brie cheese baked until it becomes warm, melty, and gooey. Brie is a soft, creamy, and mild cheese that originated in France. It is typically made from cow's milk and has a bloomy rind that is edible.
To make Baked Brie, the cheese is typically placed in a baking dish or wrapped in puff pastry or phyllo dough to create a crust. It is then baked in the oven until the cheese is soft and runny, making it perfect for spreading on crackers or bread. The heat from the oven transforms the Brie into a luscious, creamy texture, enhancing its flavors and making it a delicious and indulgent treat.
Why you will love this Baked Brie Recipe
Creamy and Indulgent: Baked Brie has a rich, creamy texture that is incredibly satisfying. When heated, the cheese becomes soft and oozy, making it a luxurious treat for cheese lovers.
Melty and Gooey: The warm and melty nature of Baked Brie creates a delightful contrast to the crispy crust or the soft bread it's often served with. The cheese becomes luscious and runny, making it perfect for dipping or spreading.
Versatile: Baked Brie can be paired with a variety of flavors and accompaniments, making it a versatile dish. Whether you enjoy it with fruit preserves, honey, nuts, or fresh fruits, there are endless possibilities for creating unique flavor combinations.
Easy to Prepare: Baked Brie is relatively simple to make, requiring just a few ingredients and minimal effort. It can be baked in the oven or even cooked on the grill, making it a convenient option for both casual and formal gatherings.
Baked Brie Recipe Ingredients
You'll only need a few simple ingredients to make this. The exact measurements are listed in the recipe card below. Here's an overview of what you'll need:
See recipe card for quantities.
How to make Baked Brie
Preheat the oven to 350°F.Baked Brie Recipe. Place the brie on a cast iron or sheet pan covered with parchment paper and drizzle with the fig jam or honey.
Bake for 5 to 8 minutes, or until it start to ooze. Watch closely!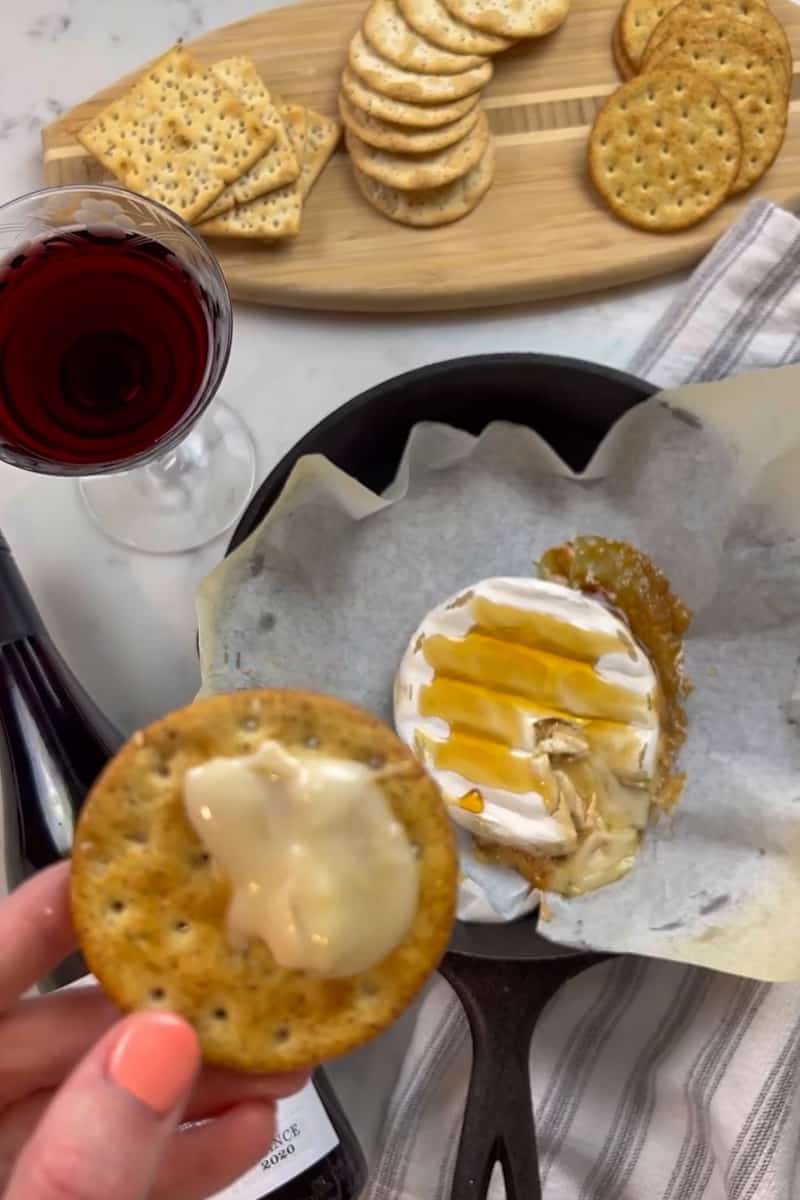 With a spatula, place the brie on a plate.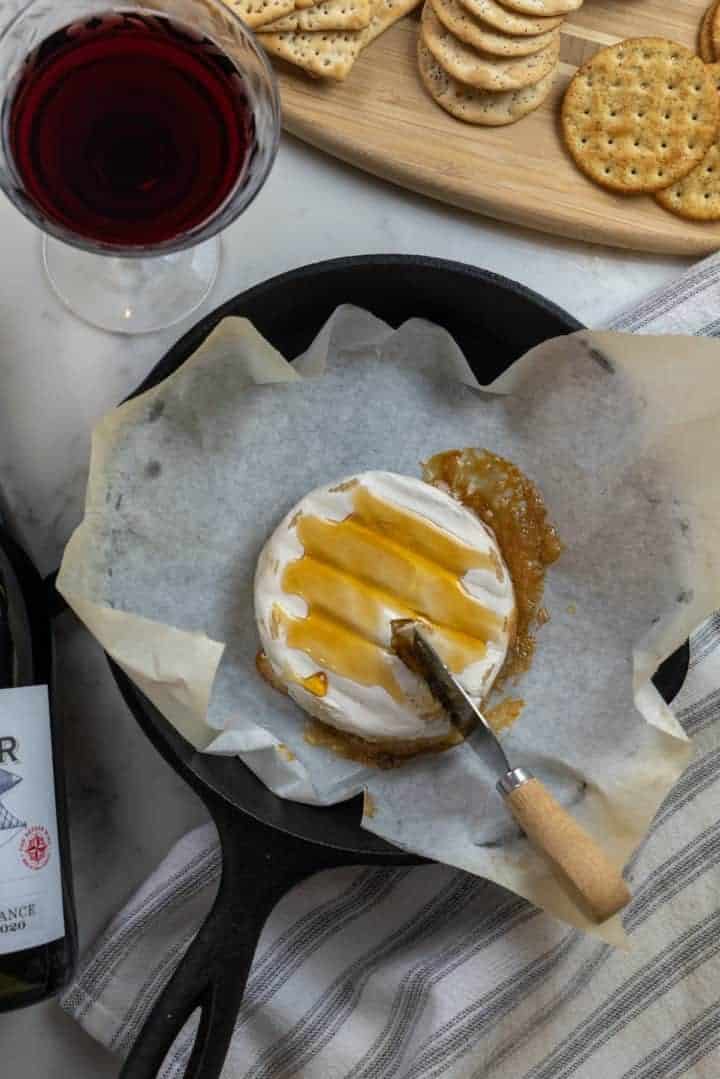 Sprinkle the nuts on the brie. Serve with crackers.
Substitutions
Brie: It is best to buy the complete wheel of brie for this recipe, and not a slice. This way, the cheese wont ooze out and the casing will still contain the cheese inside.
Fig Jam: I love using any type of jam on top, as well as honey. Fig jam is a delicious flavor and will give the brie such a good kick. Other jams you can use are strawberry, blueberries, citrus marmalade or peach jam.
Nuts: I love sprinkling nuts on the brie to give it a nice aesthetic and a good crunch. This is completely optional though.
Crackers: I love placing crackers around the brie. Not only does the presentation look prettier, but serving the brie on the crackers is the cherry on top.
Baked Brie Recipe Variations
Sweet and Nutty: Before baking, top the Brie with a mixture of chopped nuts (such as walnuts, pecans, or almonds) and sweet ingredients like brown sugar or honey. The combination of the warm, gooey cheese and the crunchy-sweet topping creates a delightful contrast.
Savory Herb: Add savory herbs like rosemary, thyme, or sage to the Brie before baking. The herbs infuse the cheese with aromatic flavors, enhancing its taste. You can also add a drizzle of olive oil or a sprinkle of black pepper for extra depth of flavor.
Fruit and Jam: Place a layer of your favorite fruit jam or preserve on top of the Brie before baking. The fruity sweetness complements the creamy cheese beautifully. Consider options like fig jam, raspberry jam, or cranberry sauce for a burst of flavor.
Caramelized Onion: Sauté thinly sliced onions in butter until caramelized and spread them on top of the Brie before baking. The sweet and savory onions add a rich, earthy flavor that pairs wonderfully with the creamy cheese.
Spicy Kick: For those who enjoy heat, add a touch of spice to your Baked Brie. Sprinkle red pepper flakes, drizzle hot sauce, or spread a layer of pepper jelly over the cheese before baking. The spicy kick adds an exciting twist to the creamy and indulgent nature of the dish.
Puff Pastry Wrap: Instead of just baking the Brie, wrap it in puff pastry before placing it in the oven. The flaky and buttery pastry creates an additional layer of texture and enhances the presentation of the dish.
Check out my Burrata Appetizer.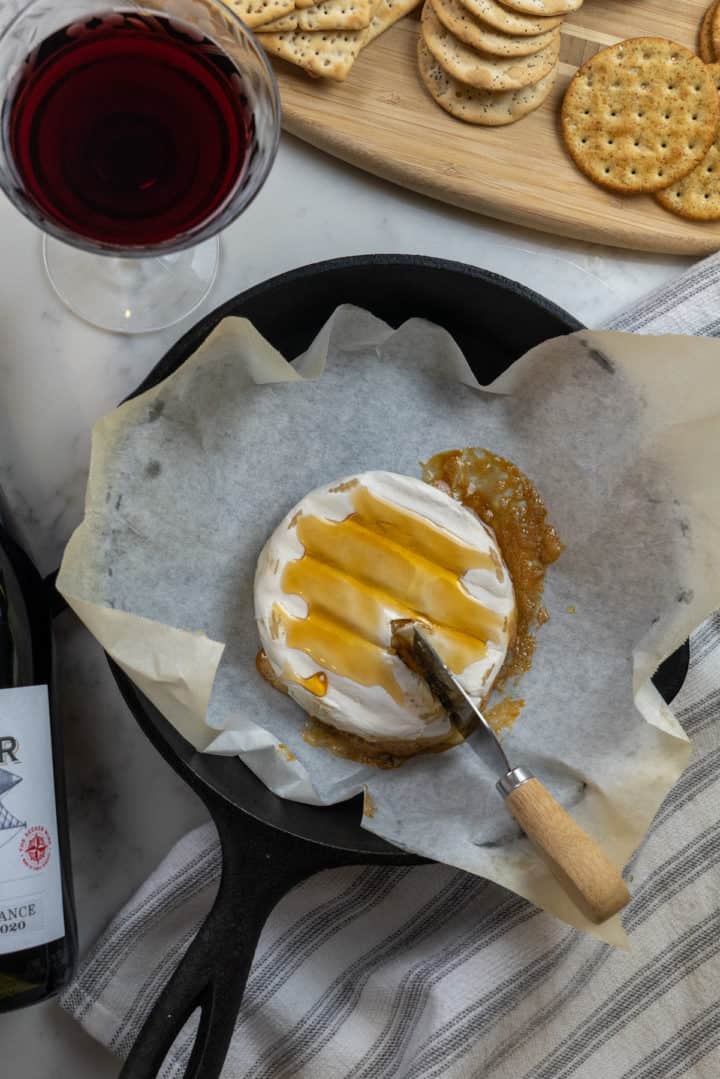 Equipment
Oven: Baked Brie is typically cooked in a conventional oven, so make sure you have access to one.
Baking Dish or Baking Sheet: Choose a shallow baking dish or a baking sheet with raised edges to prevent any melted cheese from overflowing. Alternatively, you can use a Brie baker, which is a specialized dish designed specifically for baking Brie.
Parchment Paper or Aluminum Foil (optional): Using parchment paper or aluminum foil to line the baking dish or sheet can make the cleanup process easier.
Knife: A sharp knife will be needed to slice through the rind of the Brie before baking.
Serving Platter: Choose a serving platter or cutting board to transfer the baked Brie onto for serving.
Spatula or Cheese Knife: You'll need a utensil like a spatula or a cheese knife to help transfer the warm and gooey Brie from the baking dish to the serving platter.
Accompaniments: Depending on your recipe or personal preference, you may also need serving utensils or small bowls for accompaniments such as fruit preserves, nuts, crackers, or bread.
How to store Baked Brie
To store baked Brie, follow these guidelines:
Cool Completely: Allow the baked Brie to cool completely at room temperature before storing. This helps to prevent condensation and maintain the texture of the cheese.
Wrap in Plastic Wrap: Wrap the cooled Brie tightly in plastic wrap, ensuring that it is well sealed. This helps to keep the cheese protected and maintain its freshness.
Refrigerate: Place the wrapped Brie in the refrigerator. The cold temperature of the fridge helps to preserve the cheese and prevent spoilage.
Use within a Few Days: Baked Brie is best enjoyed within a few days of baking. As time passes, the quality and flavor of the cheese may deteriorate. It is recommended to consume the leftovers promptly for the best taste.
Reheat if Desired: If you prefer to serve the leftover baked Brie warm, you can reheat it gently in the oven. Preheat the oven to a low temperature (around 250°F or 120°C), place the wrapped Brie on a baking sheet, and warm it for a few minutes until the cheese becomes soft and slightly melted.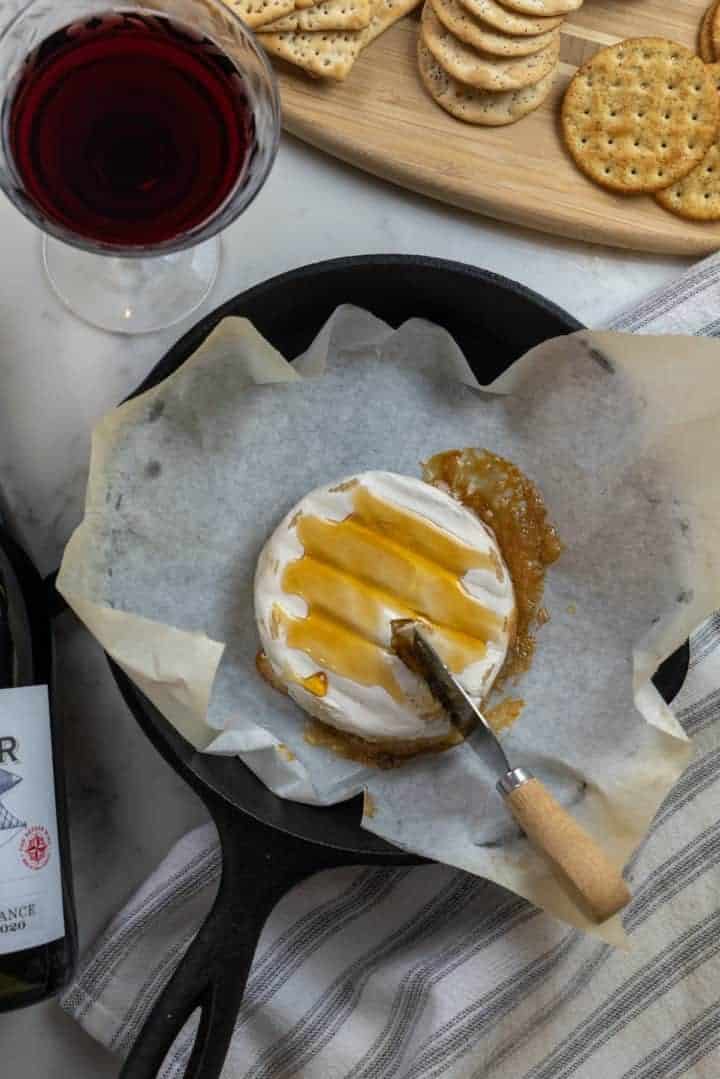 Baked Brie Recipe Top tips
Choose a Good-Quality Brie: The quality of the Brie cheese you use will greatly impact the final flavor of your baked Brie. Opt for a good-quality Brie that is ripe but not overly soft. Look for Brie with a creamy texture and a mild, buttery flavor.
Let the Brie Come to Room Temperature: Before baking, allow the Brie to come to room temperature. This ensures even melting and helps to achieve a gooey, creamy consistency.
Score the Rind: Before baking, score the top rind of the Brie with a sharp knife. This helps the cheese to melt more evenly and prevents it from bursting out of the rind during baking.
Add Toppings and Flavors: Baked Brie is a versatile dish, and you can enhance its flavor by adding various toppings or flavors. Consider topping the Brie with ingredients like chopped nuts, honey, fruit preserves, fresh herbs, or caramelized onions to add texture and complementary flavors.
Serve with Accompaniments: Baked Brie is delicious on its own, but serving it with accompaniments can take it to the next level. Provide an array of options such as crusty bread, crackers, sliced fruit, or charcuterie to enjoy alongside the warm, gooey cheese.
Garnish and Decorate: For an extra touch of elegance, consider garnishing the baked Brie with fresh herbs like rosemary or thyme. This adds visual appeal and a hint of fragrance.
Serve Immediately: Baked Brie is best served immediately after baking while it's warm and gooey. The cheese will start to firm up as it cools, so aim to serve it promptly for the most enjoyable experience.
Be Creative and Experiment: Don't be afraid to get creative and experiment with different flavors and toppings. Baked Brie is a versatile canvas, so feel free to customize it to your taste preferences and the occasion.
Print
Baked Brie Recipe
---
Author:

Total Time:

10 minutes

Yield:

4

servings

1

x
Description
This is a simple recipe that requires only four ingredients: brie, honey or fig jam, and pistachios.
---
A wheel of brie

4 tablespoons

honey or fig jam

2 tablespoons

nuts like crushed pistachios or sliced almonds
---
Instructions
Preheat the oven to 350°F.
Place the brie on a sheet pan covered with parchment paper and drizzle with the fig jam or honey. Bake for 5 to 7 minutes, or until it start to ooze. Watch closely!
With a spatula, place the brie on a plate.
Sprinkle the nuts on the brie.
Serve with crackers.
Prep Time:

3 minutes

Cook Time:

7 minutes

Category:

Appetizer

Method:

Baking

Cuisine:

American
Nutrition
Serving Size:

1

Calories:

156.0

Sugar:

1.8 g

Sodium:

229.4 mg

Fat:

11.7 g

Saturated Fat:

6.8 g

Carbohydrates:

5.5 g

Fiber:

0.8 g

Protein:

7.8 g

Cholesterol:

37.8 mg
Food safety
Cook to a minimum temperature of 165 °F (74 °C)
Do not use the same utensils on cooked food, that previously touched raw meat
Wash hands after touching raw meat
Don't leave food sitting out at room temperature for extended periods
Never leave cooking food unattended
Use oils with high smoking point to avoid harmful compounds
Always have good ventilation when using a gas stove