This Smoked Fish Dip Recipe is easy- You will need smoked whitefish, mayo, sour cream, horseradish, Worcestershire, mustard and spices.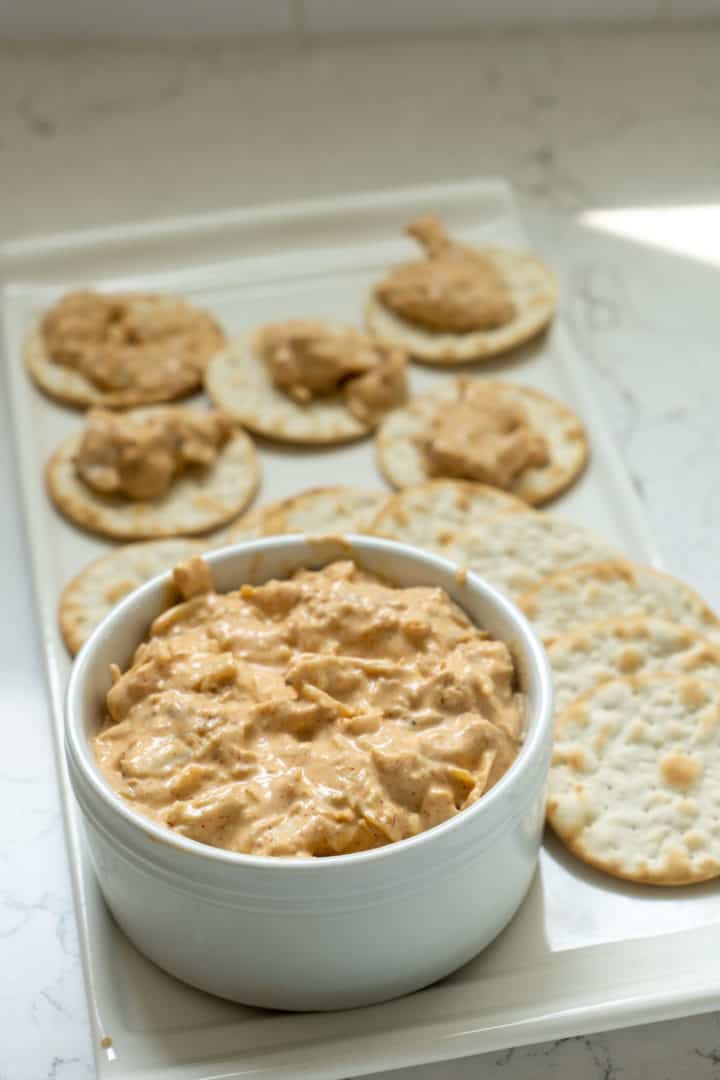 This smoked fish dip is absolutely unbelievable. It is one of the best you will ever taste. It is creamy, spicy and so flavorful. I lived in Florida for many years, so I used to eat a ton of smoked fish dip. This appetizer is so delicious and can be eaten with water crackers, tortilla chips, or frito chips. I am obsessed with the smoky flavor and the creamy texture. If you love smoked salmon like lox, I guarantee you will love this fish dip. A tub of this is great to keep in your fridge when you need a light snack.
Most seafood establishments uses every part of a whole fish as effectively as they can. The bones and heads are use for broth, the meat is used for cooking, and some even use shrimp skin to make shrimp stocks. The unused fish they catch are usually smoked and is what I use to make this fish dip. They all vary so this is always a good chance to have fun with it. I have seen some fish dips use cream cheese, a variety of seasonings, and even celery, capers, and pickles.
If you like this recipe, you should try my Spicy Swordfish and my Keto Buffalo Chicken Dip.
Jump to:
Best Smoked Fish for Dip
When it comes to making a smoked fish dip, there are a few types of fish that work really well. Here are some of the best options:
Smoked Salmon: Smoked salmon is a classic choice for a fish dip. It has a rich, buttery flavor and a firm texture that makes it easy to flake and blend with other ingredients.
Smoked Trout: Smoked trout is another great option for a fish dip. It has a delicate flavor and a texture that's similar to smoked salmon.
Smoked Whitefish: Smoked whitefish has a mild, sweet flavor and a flaky texture that works well in dips. It's also a good choice if you're looking for a more affordable option.
Smoked Mackerel: Smoked mackerel has a stronger, more assertive flavor than some of the other options, which can work really well in a dip that includes bold flavors like horseradish or mustard.
Best Crackers for Fish Dip
When it comes to pairing crackers with a fish dip, there are a few things to consider. You want a cracker that has enough structure to hold up to the dip, but not so much that it overpowers the delicate flavor of the fish. Here are some of the best types of crackers to serve with a fish dip:
Saltine crackers: Saltine crackers are a classic choice for serving with fish dip. They have a mild flavor that won't overpower the fish, and their light, crispy texture is perfect for scooping up the dip.
Water crackers: Water crackers are another good option for serving with fish dip. They have a simple, neutral flavor that won't compete with the dip, and their thin, crisp texture is ideal for spreading the dip evenly.
Pita chips: Pita chips are a heartier option that work well with a thicker, chunkier fish dip. They have a slightly nutty flavor that complements the fish and a sturdy texture that won't break under the weight of the dip.
Crostini: Crostini are small slices of toasted bread that work well with a creamy, spreadable fish dip. They have a crispy texture that adds a nice contrast to the smooth dip, and their slightly savory flavor pairs well with the fish.
What do I need to make smoked whitefish dip?
Smoked White Fish
Mayonnaise
Sour Cream
Horseradish
Worcestershire Sauce
Dijon Mustard
Paprika
Cayenne Pepper
Lemon Juice
See recipe card for quantities.
Smoked whiting: smoked salmon, blue fish, swordfish, tuna, mahi mahi, mackerel, or whitefish are other popular options. 
Sour cream: it gives this dip a nice 'tang'. You can also choose to use Greek yogurt instead.
Mayonnaise: most dips benefit from mayo, it has a nice flavor, and loosens the texture. Make you own if you like, it's easy!
Prepared horseradish: this is sold in small jars in the condiment aisle of your store and it gives the dip a zesty bite. You can also used creamed horseradish, homemade, or from a jar.
Spices: sweet and smoked paprika, onion powder, and garlic powder.
Lemon juice: just a squeeze of fresh lemon juice brightens and cuts the richness of the smoked fish.
Salt:  you'll add it to taste, depending on how salty your fish is.
Instructions
Mix all ingredients together and place in a bowl to serve.
Alternatively, you can add everything in a food processor until consistency reached a spread.
Hint: Mix all ingredients together and place in a bowl to serve. Alternatively, you can add everything in a food processor until consistency reached a spread.
Substitutions
Fish: Go to your local fish marker and ask if they have any smoked fish on hand. I called mine and they said they only had smoked whiting. This can work with mullet, mackerel, or any smoked white fish for that matter. Get creative!
Mayonnaise: You can opt for using all mayonnaise or all sour cream. If you want, you can throw in some cream cheese for a thicker dip. I prefer to keep mine on the lighter side.
Sour cream: If you prefer sour cream, use only sour cream instead of mayonnaise. This will still have the same consistency. If you prefer a heavier dip, use cream cheese instead.
Horseradish: I love using a little bit of horseradish to give the dip that kick. I have seen people use wasabi paste instead, or a spicy hot mustard. You could eve add some minced ginger in there.
Mustard: Feel free to add more or less of the mustard, depending on how much you like it. If you like a little spice to the dip, you could even add sriracha.
Spices: I loved using paprika and cayenne pepper for this dip. You could even use chili powder or red pepper flakes.
Lemon: I love using drops of lemon juice to give the dip some acididy. Some other substitutes could be lime juice, apple cider vinegar, or orange juice. Orange juice is a bit on the sweeter side, so keep that in mind. They will all still taste very good!
How long does the whitefish dip last?
The shelf life of whitefish dip will depend on how it is stored and whether it has been opened or not. Generally, whitefish dip should be stored in an airtight container in the refrigerator and can last for up to 3-4 days after it has been made. However, if the dip has been left at room temperature for more than 2 hours or if it has been contaminated by double-dipping or other means, it should be discarded.
If you want to extend the shelf life of your whitefish dip, you can freeze it for up to 2-3 months. Just make sure to store it in a freezer-safe container and thaw it in the refrigerator overnight before serving. However, keep in mind that the texture and flavor of the dip may be affected by freezing and thawing, so it may not be as good as when it was first made.
What can I eat with whitefish dip?
Whitefish dip pairs well with a variety of different foods, including:
Crackers: As mentioned earlier, saltines, water crackers, pita chips, and crostini are all great options for dipping into whitefish dip.
Vegetables: Fresh cut vegetables like celery, carrot sticks, cucumber slices, and bell pepper strips are a healthy and refreshing complement to the rich and creamy dip.
Bread: Slices of toasted baguette, breadsticks, or even chunks of sourdough bread are a great way to add some extra texture and flavor to your dip.
Chips: Tortilla chips or potato chips can also work well with whitefish dip, especially if you're looking for something with a little more crunch.
Pretzels: Soft or hard pretzels can be a fun and unexpected way to enjoy whitefish dip. The salty, chewy pretzel pairs well with the creamy dip.
Smoked Fish Dip Recipe Variations
There are many variations of smoked fish dip that you can make to suit your tastes. Here are some ideas:
Classic Smoked Fish Dip: This recipe usually includes smoked fish, cream cheese, mayonnaise, lemon juice, hot sauce, and some spices such as garlic powder, onion powder, and black pepper.
Smoked Trout Dip: This variation includes smoked trout, cream cheese, Greek yogurt, Dijon mustard, lemon juice, and some fresh herbs such as parsley and chives.
Smoked Salmon Dip: Combine smoked salmon, cream cheese, sour cream, lemon juice, capers, and fresh dill for a classic and delicious dip.
Spicy Smoked Fish Dip: Add some heat to your dip by adding jalapenos, hot sauce, or chili powder.
Smoked Whitefish Dip: Mix smoked whitefish with cream cheese, sour cream, horseradish, and chives for a tangy and flavorful dip.
Smoked Mackerel Dip: Combine smoked mackerel, Greek yogurt, lemon juice, Dijon mustard, and green onions for a bold and tangy dip.
Cajun Smoked Fish Dip: Add some Cajun seasoning to your smoked fish dip for a spicy and flavorful twist.
See this Spinach Artichoke Dip Instant Pot on my website.
Equipment
To make fish dip, you don't need any special equipment. However, having the following tools can make the process easier and more efficient:
Food processor or blender: A food processor or blender can make it easier to blend the ingredients together into a smooth and creamy dip. You can also use a hand mixer or a fork if you don't have a food processor or blender.
Mixing bowl: You'll need a mixing bowl to combine all the ingredients together.
Cutting board and knife: If you're using fresh herbs or vegetables, a cutting board and knife will come in handy for chopping them into small pieces.
Measuring cups and spoons: You'll need measuring cups and spoons to ensure that you're adding the right amount of each ingredient.
Spatula: A spatula can be used to scrape the sides of the food processor or mixing bowl to ensure that all the ingredients are well combined.
Storage container: Once your fish dip is made, you'll need a container to store it in the refrigerator. An airtight container is best to help keep the dip fresh and prevent any odors from seeping in.
How to store Fish Dip
To store fish dip properly, follow these steps:
Let it cool: If you've just made the fish dip, let it cool down to room temperature before storing it.
Transfer to a container: Once the fish dip has cooled, transfer it to an airtight container. Glass or plastic containers with tight-fitting lids work well for this.
Refrigerate: Place the container in the refrigerator and make sure it is tightly sealed. The fish dip should be consumed within 3 to 4 days.
Freeze: If you're not planning to consume the dip within 3 to 4 days, you can freeze it for up to 2 months. To freeze, transfer the fish dip to a freezer-safe container and label it with the date. When ready to use, thaw the dip in the refrigerator overnight before serving.
Avoid double-dipping: Always use a clean spoon or utensil when serving fish dip to avoid contamination. Double-dipping can introduce bacteria to the dip, which can cause it to spoil faster.
Smoked Fish Dip Top tips
Here are some top tips for making smoked fish dip:
Use quality smoked fish: The flavor of the dip will depend on the quality of the smoked fish you use. Choose a good quality smoked fish that has a robust flavor and is not overly salty.
Adjust the seasoning: The amount of seasoning you use will depend on your personal preference. Start with a small amount and taste as you go, adding more seasoning as needed.
Use room temperature ingredients: Allow the cream cheese and other ingredients to come to room temperature before making the dip. This will make them easier to blend together and result in a smoother dip.
Add a kick of heat: For an extra kick of heat, add jalapeños, hot sauce, or chili powder to the dip. However, be careful not to overdo it, as too much heat can overpower the other flavors.
Let the flavors meld: Let the dip sit in the refrigerator for at least an hour before serving to allow the flavors to meld together.
Garnish with fresh herbs: Garnish the dip with fresh herbs such as parsley, dill, or chives for a pop of color and added flavor.
Serve with crackers or vegetables: Smoked fish dip is best served with crackers or sliced vegetables such as carrots, celery, and bell peppers.
Print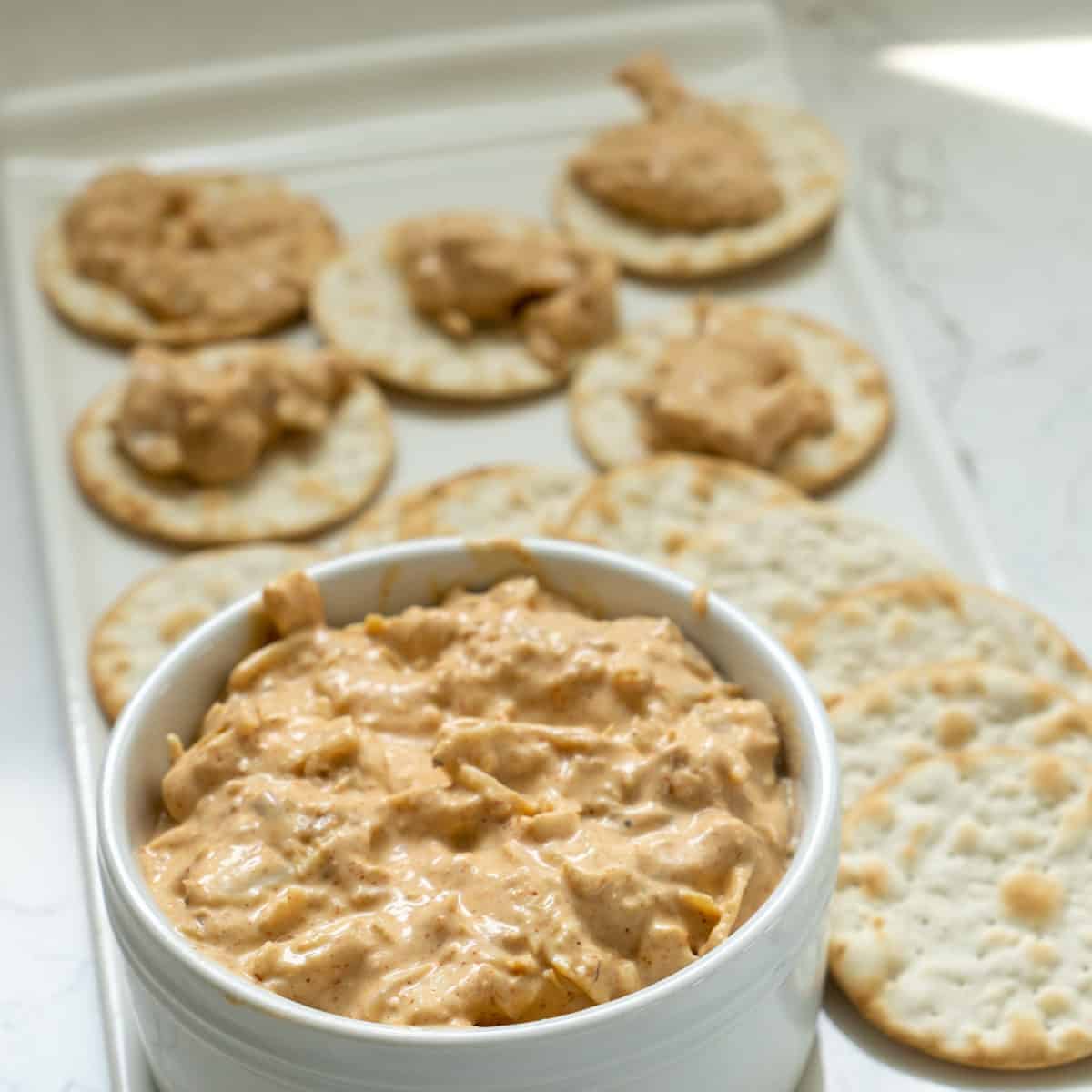 Smoked Fish Dip Recipe
---
Author:

Total Time:

10 minutes

Yield:

2

servings

1

x
Description
How to Make Smoked Fish Dip is easy- You will need smoked whitefish, mayo, sour cream, horseradish, Worcestershire, mustard and spices.
---
1

pound smoked whitefish, skin and bones removed

½ cup

mayonnaise

½ cup

sour cream

1 tablespoon

prepared horseradish

1 tablespoon

Worcestershire sauce

2 tablespoons

dijon mustard

1 teaspoon

paprika

½ teaspoon

cayenne pepper

2 tablespoons

lemon juice
Salt and pepper, to taste
---
Instructions
Mix all ingredients together and place in a bowl to serve.
Alternatively, you can add everything in a food processor until consistency reached a spread.
Prep Time:

5 minutes

Cook Time:

5 minutes

Category:

Appetizer

Method:

Blending

Cuisine:

American
Food safety
Cook to a minimum temperature of 165 °F (74 °C)
Do not use the same utensils on cooked food, that previously touched raw meat
Wash hands after touching raw meat
Don't leave food sitting out at room temperature for extended periods
Never leave cooking food unattended
Use oils with high smoking point to avoid harmful compounds
Always have good ventilation when using a gas stove